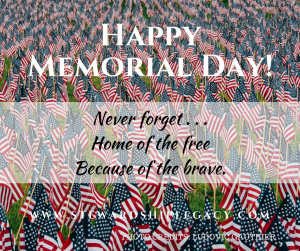 The aroma of apple pie fills the air and the breeze coming in the doorway brings wafts of hickory barbecue from the outdoor grill. Aunt Betsy's potato salad is calling our name and the house is filled with the expectation of rest, a delicious meal and time with the family. Ahhh . . . Memorial Day is here. 
But what makes this time of rest so special? On this day we remember servants who gave us peace and rest. They left us a legacy worth remembering of sacrifice, selflessness, and service. The privilege to enjoy such a day is given freely but cost much. Because freedom is not cheap, it makes us appreciate all the more the gift of freedom which is inexpressible in value. It is earned by men and women willing to pay the greatest price of all for the nation and people they love . . . purchasing freedom with their very own lives.
Those who have bravely served our country have modeled the greatest sacrifice of all, first shown by our Savior:
"Greater love has no one than this: to lay down one's life for one's friends." John 15:13
It was great love that stirred the hearts of our servicemen to fight against evil. On this day of remembrance, let's celebrate by honoring and respecting such a sacrifice and never forgetting the great love shown so we might enjoy freedom. May we reflect with gratitude and joy those who so willingly sacrificed for their country. 
In the words of our beloved President, Ronald Reagan, "There is a special sadness that accompanies the death of servicemen . . . what they gave us is beyond our ability to pay." We cannot give back a life that was lost, but we can live differently because of such a gift. To watch Ronald Reagan's Memorial Day Tribute, click here.
Perhaps one way to pay it forward is to never forget how blessed we are and to carry that same spirit of service and love to those around us. God willing, we will do so.
Thank you to all who have so selflessly served our great country. May God bless you and your family abundantly. Happy Memorial Day from Stewardship Legacy Coaching.