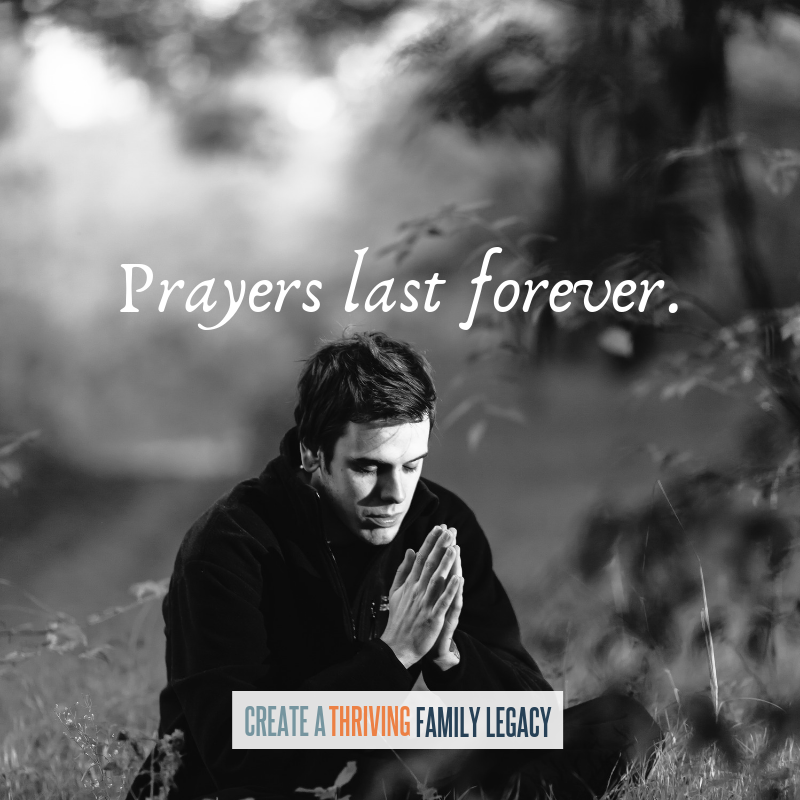 "Each prayer is like a seed that gets planted in the ground. It disappears for a season, but it eventually bears fruit that blesses future generations. In fact, our prayers bear fruit forever." —Mark Batterson, Draw the Circle: The 40 Day Prayer Challenge
The legacy we leave our family is primarily three-fold, affecting their finances, their character, and their spiritual well-being.
Finances and belongings will eventually disappear, and the wisdom we seek to pass down can fade with time and challenges, but the prayers we offer on their behalf are forever.
Prayer. When our loved ones suffer in some way, we cover them in prayer. When they yearn to accomplish something or need help, we pray. But do we pray ahead for them? This can be a significant part of our legacy.
Intentionality
Strategically praying for our family and friends and those God has placed in our care for prayer coverage takes intentionality and in a busy world, this is hard to carry out. There are so many needs. But rather than throwing in the towel and ending up praying monotonous rote prayers, we can weave prayer time into our daily schedule.
Method
There is no one perfect method, other than the one that you can be the most consistent with. Some people alternate groups of people they pray for each day. One day will be close family, the next day friends, then church, work, neighborhood, those in leadership, etc. Use the method or tool that helps you to be faithful as a pray"er" for those God has placed in your care.
Application
Whatever method or time that you want to pray, sometimes some tools can help your intentions to become a reality. Below are some tools to help you succeed in being a pray"er". Use whatever works best with the rhythm of your life. But don't give up. And remember—every prayer is an investment in the faith of loved ones you may never meet. Leave a legacy of prayers for those who come behind you. We might not be there for their future, but our prayers can be.
Prayer Tools/apps
https://new.echoprayer.com
https://www.prayermate.net/
Prayer Journal
Prayer Cards
Prayer Books or Studies
Prayer Methods
Prayer Walk
Prayer Closet
Prayer Groups
Prayer Meetings
Prayer Patterns
ACTS – Adore, Confession, Thanksgiving, and Supplication
TRIP – Thanks, Regret, Intercession, and Purpose
PRAY – Praise, Report, Ask, and Yield